Refresh What is Lost Over Time
Sun exposure, hormonal changes and aging can all have an impact on your skin's appearance. Over time, your skin begins to lose hyaluronic acid and collagen, resulting in fine lines, wrinkles and a loss of fullness and elasticity. Healthcare professionals now can correct wrinkles and folds and add volume to sunken skin, reversing the signs of aging.
Refresh What Nature Gave You
Luckily, now there's Juvederm™, a soft replenishing injectable gel. Made from hyaluronic acid, a naturally occurring sugar found in your body, it adds volume to minimize the appearance of wrinkles, thinning skin and lips. Hyaluronic acid injections have also been shown to stimulate collagen production. Best of all, the results are instant and natural-looking, there's no downtime and it has been demonstrated to be safe for all skin tones.
Studies show superior results with Juvéderm™ compared to another dermal filler.* Almost 90% of all study volunteers who were treated with both Juvéderm™ and another dermal filler preferred Juvéderm™. In addition, Juvéderm™ soft replenishing gel filler is the first hyaluronic acid dermal filler that is proven to be safe and effective for persons of colour.
A Juvéderm™ treatment typically takes 15-30 minutes and results are immediate. Plus, there's minimal recovery or downtime. So you can step into your doctor's office for treatment and step right back into your life.
Where Juvéderm™ Can Be Used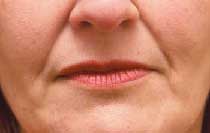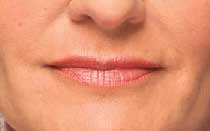 Juvéderm™ instantly rejuvenates your appearance by smoothing unwanted lines, restoring natural contours and enhancing lips. Results are instant and Juvéderm™'s smooth gel provides a long-lasting natural look and feel.
Juvéderm™ is best used to:
• smooth the lines around your mouth and nose
• enhance the size and shape of your lips
• reduce crow's–feet
• reduce laugh lines
• fill out your cheeks
The most appropriate lines to treat with Juvéderm™ are those that are described as static—this means lines you can see when your face is still. Juvéderm™ can also be used to enhance, or "plump up", your lips, for soft, subtle results that bring back a more youthful you.